2022: A Year to Remember for Oakmont Capital Services
If we could summarize 2022 in one word, it would be extraordinary. Don't get us wrong: the Oakmont Capital Services team at both the West Chester, PA, and Albany, MN branches were faced with unprecedented challenges post-pandemic, much like the rest of the world. What makes OCS unique, however, is the determination, discipline, and positivity the equipment financing organization possesses. These key characteristics, in addition to our unwavering values, contributed to the perseverance and overall success of the company throughout 2022.
So, without further delay, let's explore 2022: a year to remember for Oakmont Capital Services.
Developing Talent
People are the core of OCS. Developing and growing these talented team members is essential as our volume continues to increase. In 2022, Oakmont Capital Services promoted the following team members:
Rachel Hoffman (PA) Operations Specialist to Finance Coordinator.
Ana Suarez (PA) Marketing Events Coordinator to Marketing Communications Specialist.
Clay Fischer, CLFP (MN) Senior Credit Analyst to Large Ticket Credit Manager.
Bill Chandlee (PA) Operations Manager to Asset Manager.
Mikki Henkelman, CLFP (MN) Credit Manager to VP Credit & Risk.

Above and Beyond
Whether they were completing a rigorous 8-week leadership course or accepting a role on a leading industry committee, the following employees went above and beyond this year:

Let's not forget to congratulate the following team members for achieving their Certified Lease and Finance Professional, or CLFP, designation:
Kristy Doll, Account Manager (MN)
Molly Sand, Business Development Officer (MN)
Maria Trettel, Credit Analyst (MN)
Jodie Schimek, Credit Analyst (MN)

New Hires
The Minnesota and Pennsylvania offices have been bustling since the organization onboarded the following employees in 2022:
Austin Borgerding (MN) is the credit department's newest Credit Analyst.
Jacqueline Bernier (PA) joined the Oakmont Capital Services team as a Marketing Events Coordinator.
Melanie Laird (PA) is an Operations Specialist with over 10 years of customer service experience.
Matt Monroe (PA) is an Account Manager focusing on business development and customer retention.
Kendra Lange (MN) supports the growing credit department as a Credit Analyst.
Grant Mergen (MN) helps review and approve customer deals as a Credit Analyst.
Alicia Moening (MN) joined Oakmont Capital Services as an Account Manager.
Jenny Goebel (MN) is an Operations Specialist with over 20 years of experience in the financial sector.
Kayleen Redman (MN) is an Operations Specialist focusing on titling.
Laura Salzl (MN) provides support to all parties involved in the financing process as an Operations Specialist.
Maggie Terres, CLFP (MN) is a Finance Coordinator and holds an ICBA Principles of Banking Certificate.
Debbie Waldron (MN) has over 25 years of experience working in the finance industry and has joined the team as a Collections Specialist.
Jenna Rubendall (PA) supports OCS' Controller and accounting team as a Staff Accountant.
Tammy Schlichtig (PA) has also joined OCS as a Staff Accountant.
Gabrielle Vitelli–Clerico (PA) assists the funding team as a Documentation and Funding Specialist.
Stephanie Wentland (MN) focuses on the implementation of technology solutions, supporting the organization as a Business Systems Analyst.
Working Together
The customer journey is a priority for Oakmont Capital Services. As a result, our dealer, vendor, and manufacturer partnerships across the U.S. helps us provide a five-star experience for the entire financing process.
In 2022, OCS continued to develop relationships with a multitude of valued partners, one of which was Takeuchi. In August, several members of OCS' team attended a sales training at Takeuchi's North American Headquarters in Georgia. This included Michael McElroy, Director of Business Development & CLFP, Molly Sand, Business Development Officer & CLFP, Jayme Gerads, Business Development Officer & CLFP, and D.J. Jackson, Business Development Officer & CLFP.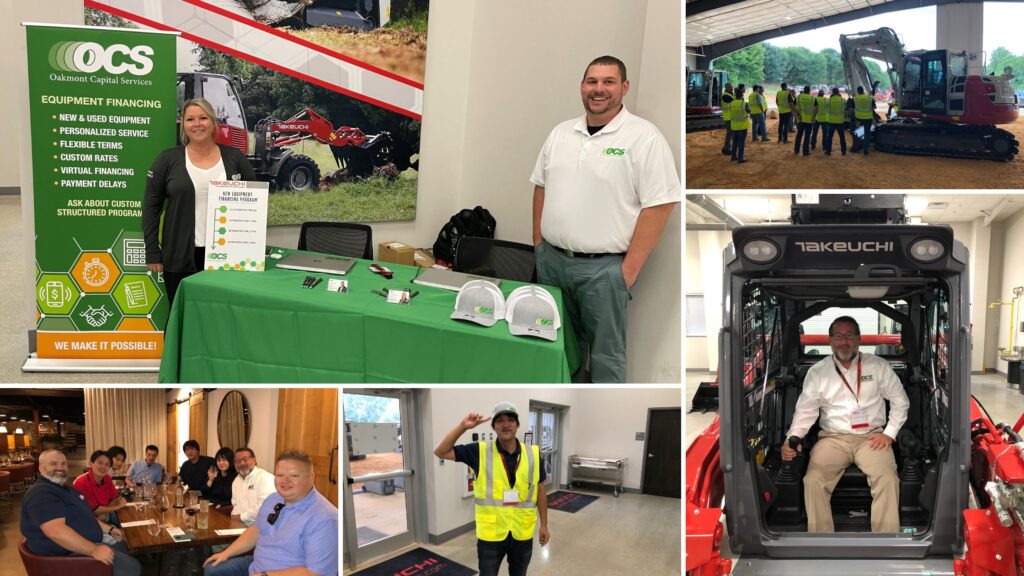 Financing Foresight
After experiencing a year filled with achievements, promotions, and the onboarding of sixteen new employees, it's hard to look at 2023 and not expect our unprecedented growth to continue. Thanks to an incredible team, 2022 has become a year for the record books.
Goodbye 2022 and hello, 2023 – the Oakmont Capital Services team is eager to see what you have in store and can't wait to celebrate 25 years in the industry.
Interested in working with OCS as your commercial loan provider or partnering with us on a custom program? Contact us today at 877-701-2391 or email us at ocs@oakmontfinance.com for more info.
Better Rates and Flexible Terms
Oakmont Capital shatters the big bank rates, making us the go-to funding source for a wide range of customers.
Over 20 Years of Experience
Work with our team of experts and grow your business. Speak with our Certified Lease & Finance Professionals today to learn more.
24 Hour Turnaround
Our streamlined application process delivers credit decisions within hours, not days, maximizing your time and experience.