Why Choose Us? OCS' Industry Experts Make It Possible (And Easy!)
Oakmont Capital Services provides equipment financing and working capital to small business owners who work in a multitude of industries across all 50 states. This begs the simple question:
which industries
? Although OCS provides business loans for almost every type of commercial equipment you can think of, we do have experts on staff who specialize in the following:

Let's take a closer look at some of these industries and explore why Oakmont Capital Services just might be your ideal financing partner.
Construction
Are you a general contractor who works in commercial and/or residential construction? Oakmont Capital Services not only can offer financing for all types of equipment (we're talking dump trucks, backhoes, rollers, bulldozers, track loaders, and many, many more) but we also have strategic manufacturer and dealer relationships all over the country that can make finding the equipment you need less complicated.
Not to mention, we have several expert finance professionals on our team who understand construction equipment and the equipment finance process:
Michael McElroy, Director of Business Development and CLFP
Elise Linn, Sales Manager and CLFP
Jayme Gerads, Business Development Officer and CLFP
Molly Sand, Business Development Officer and CLFP
D.J. Jackson, Business Development Officer and CLFP
Adam Domke, Business Development Officer and CLFP
Carrie Jaenicke, Business Development Officer
Apply for Construction Equipment Financing Today
Our construction equipment pros are excited to attend these upcoming tradeshows – the question is, will you be there, too?
Why are these shows important?
Great question! They connect industry distributors, suppliers, and manufacturers from across the country every year and reinforce Oakmont's strategic partnerships with construction equipment providers nationwide. As a result, these key relationships allow us to offer the fast financing we're known for and dealer connections where clients can (potentially) purchase equipment.
Delivery Vehicles
Securing financing for one delivery vehicle or an entire fleet shouldn't drive you crazy. With Andrew Halladay and Chad Primus at the wheel, you can expect nothing less than attention to detail and on-time delivery. Together, Andrew and Chad have over 27 years of experience in fleet financing. Their industry connections are vast and can help you potentially find the new or used truck(s) that best fit your business needs.
Did you know…? OCS has attended the Route Consultant Tradeshow since its inception. In 2022, our team traveled to Las Vegas, NV, to speak with hundreds of independent contractors and answer questions about equipment financing and growing their fleets.
If you're in the market to expand your enterprise, make much-needed repairs, or need cash for unplanned maintenance, our team can work with you to secure a working capital loan.
Our team can also offer you:
Same-day credit decisions
E-docs for speedy processing
Competitive rates*
100% financing for all credit types*
A quick and streamlined application process
Finance Your Fleet Today
Medical and Optical Equipment
At Oakmont Capital Services, our optical and medical finance professionals, Mindy Lund, CLFP, and Tabitha Renneker, understand that the equipment financing process should be easy and customized according to the client's needs.
Why finance medical and optical equipment with OCS?
Running a business purely on cash flow poses potential risks, which is why financing is not only recommended but critical. Mindy and Tabitha have helped countless businesses acquire capital so doctors can purchase consumables, implement marketing initiatives, and maintain payroll for employees, as well as use financing to purchase vital equipment to treat patients. These medical equipment experts also love what they do and care about their customers. Their goal is to make the financing experience enjoyable and provide the best terms possible.
Apply for Financing with OCS
Interested in meeting Tabitha or Mindy in person to discuss medical and optical equipment loans? The industries' numerous tradeshows couldn't be a better place to discuss details and meet potential vendors (not to mention, see some of the equipment in action)! Reach out to Mindy or Tabitha today at medical@oakmontfinance.com to see what tradeshow they're visiting next!
Manufacturing
Oakmont Capital Services has made it possible since 1998, partnering with manufacturers and offering financing to small business owners looking to purchase equipment – but what about financing for manufacturers? They need equipment, too! Whether you're in metal forming, fabricating, welding, or finishing (we could go on) we know that you need new or even used machinery that keeps you producing.
As a direct equipment finance lender, we can offer manufacturers in various sectors:
Competitive Terms*
Flexible Terms for A, B, and C Credit Profiles*
No Money Down
Fast Approvals
Virtual Financing via E-Docs
Delayed Payment Options*
Up to $1M application only for qualifying credits*
Financing for new and used equipment
An expert point of contact who understands the industry
Speaking of, meet OCS' Director of Business Development and CLFP, Michael McElroy. Michael works with manufacturers across the country and is an experienced equipment finance professional. Throughout his career, Michael has established multiple national manufacturer financing programs and is an expert at providing a personal, professional, and most importantly, enjoyable experience for OCS clients. His customers appreciate his commitment to five-star service and his desire to form long-term relationships in the industries that he serves.
Fun Fact: Michael is OCS' road warrior, attending many tradeshows throughout the year! You can find him at FABTECH, NPE, TCIA, AED and many more. Reach out to connect with Michael in person if you'll be on the road, too!
Street Sweeping
OCS offers financing for new and used sweepers, which can sometimes be a challenge for other lenders. We understand the types of machines your industry purchases and we're able to streamline our lending process to ensure you'll only provide the basic information needed to get approved.
If you're looking for a fast and simple funding process, then Oakmont Capital Services is the partner for you! Not only do we understand sweeping, but we have a team of experts that recognize the equipment's long-term value. As a result, OCS can help secure the best terms possible (for example, low down payments, delayed payments, or extended terms).
Meet the dedicated and disciplined team that's ready to get you sweeping:
Jim Peach, Sr. VP Sales & Marketing and CLFP
Michael McElroy, Director of Business Development and CLFP
Elise Linn, Sales Manager and CLFP
Jayme Gerads, Business Development Officer and CLFP
Adam Domke, Business Development Officer and CLFP
Start Your Application for Sweeper Financing
Fun Fact: OCS is committed to staying up to date on all the latest and greatest regarding sweeping equipment. We maintain our long-standing dealer and manufacturer relationships and we exhibit at and attend the National Pavement Expo (NPE) and World of Asphalt tradeshows each year. You can check out some highlights from the 2022 NPE Show below. [/box]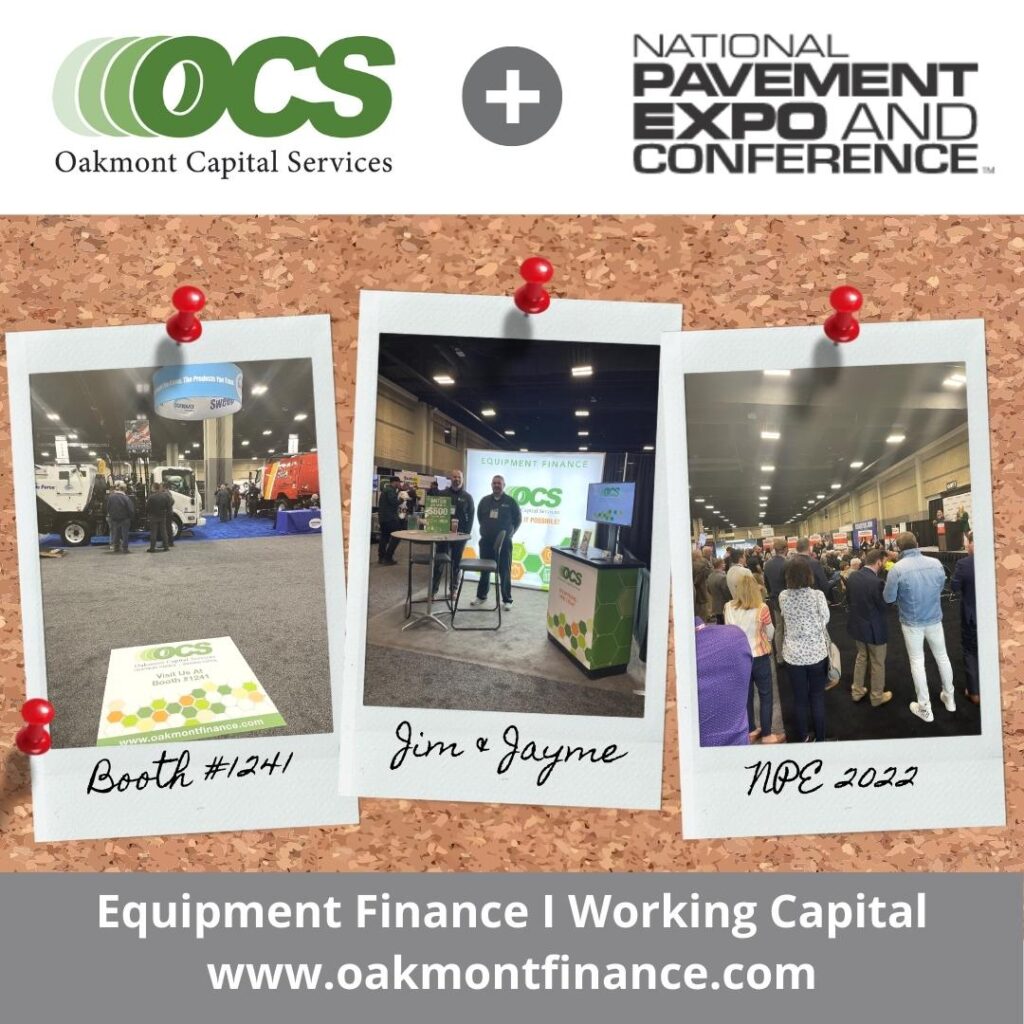 Waste and Sanitation
We're ready to help you finance waste and sanitation equipment quickly and easily. Whether you're looking for a loan for trucks, carts, or containers or need a working capital line of credit to preserve cash flow, the benefit of working with OCS goes beyond no money down and flexible terms.
Oakmont's waste and sanitation experts are:
Jayme Gerads, Business Development Officer and CLFP
Adam Domke, Business Development Officer and CLFP
Apply for Financing Today
Tradeshow Spotlight: WWETT and WasteExpo
The OCS team exhibits at the WWETT (Water & Wastewater Equipment, Treatment & Transport) show and the WasteExpo shows annually. We know you're experts in plastics, recycling, and trash – but what about prepping for the shows themselves?
Here are a few tips to help you get ready for next year:
– Register in advance for early bird discounts
– Adhere to show deadlines to avoid fees or confusion
– Plan ahead and set appointments with exhibitors you'd like to speak with
– Create a schedule – it's amazing how time flies when you're having fun and talking trash (literally)
– Bring business cards or go green and create digital ones that can be shared instantly
Tree Care
There is no "one size fits all" financing for small business owners in the tree care industry. Our team of tried-and-true tree-care enthusiasts wholeheartedly believes that each tree-care provider is as unique as the trees they trim, cut, and care for daily. OCS' tree-care experts are:
Michael McElroy, Director of Business Development and CLFP
Andrew Halladay, Business Development Officer and CLFP
Tatum Noreen, Account Manager and CLFP
D.J. Jackson, Business Development Officer and CLFP
Did you know…? D.J. serves on the Tree Care Industry Association (TCIA) Corporate Member Committee where he collaborates with other industry professionals on official TCIA business.
Oakmont Capital Services is committed to helping tree care businesses finance new or used equipment, including bucket trucks, chippers, stump grinders, aerial lifts, and more.
OCS is committed to offering the tree care industry:
100% financing*
Same Day Credit Decisions
Financing for A, B, and C credit profiles*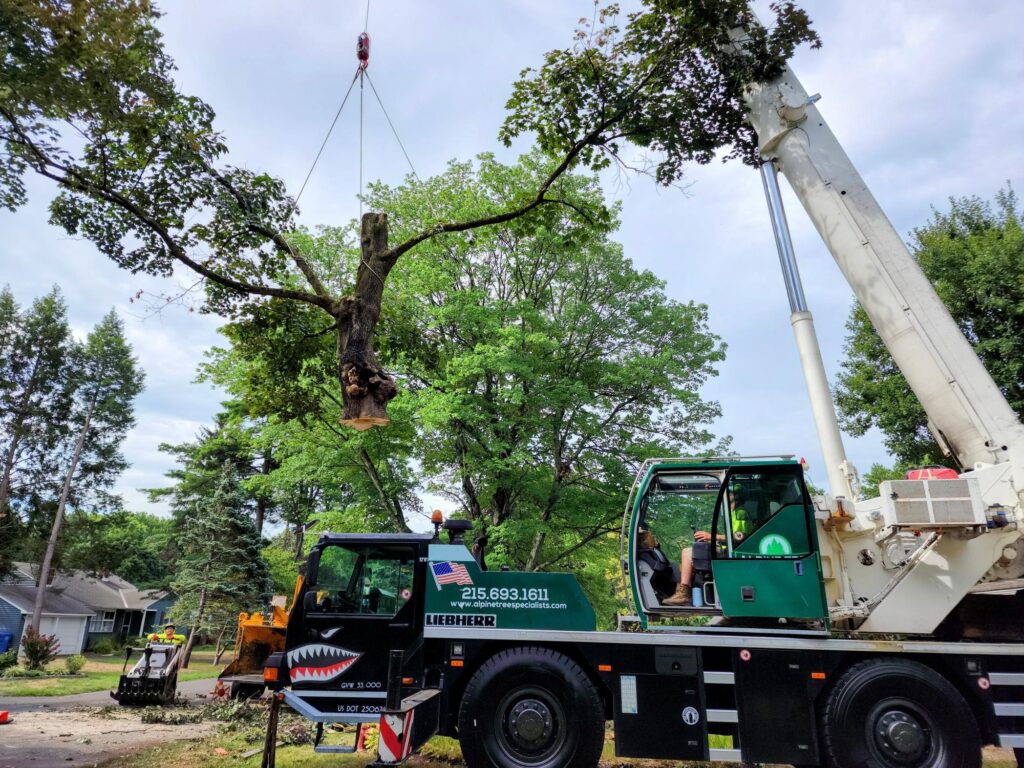 Our team knows the tree care industry and is also devoted to expanding their knowledge base so they can help you climb higher. That's why we attend the following tradeshows: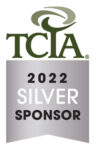 Fun Fact: Oakmont Capital Services is a TCI'22 Silver Sponsor!
Interested in working with our team of tree care experts?
Learn More Today
*All rates and terms are based on credit approval and are subject to change.
Better Rates and Flexible Terms
Oakmont Capital shatters the big bank rates, making us the go-to funding source for a wide range of customers.
Over 20 Years of Experience
Work with our team of experts and grow your business. Speak with our Certified Lease & Finance Professionals today to learn more.
24 Hour Turnaround
Our streamlined application process delivers credit decisions within hours, not days, maximizing your time and experience.